Jobs in the Online Gaming Sector
We have 2 opportunities in the
Online Gaming
sector for which we are currently recruiting. To see the jobs in ALL sectors, please click here:
All vacancies
We would also like to invite you to sign up to receive an alert from us when new jobs become available in the Online Gaming sector (and any other sectors) in the future. Register here to be the first to know:
Register
Our client is an Online Casino Company in Limassol looking for a highly motivated and experienced Operations Manager to join their online casino team. This executive leadership position requires a seasoned professional with a proven track record in the online casino industry. You will be responsible for driving business growth, overseeing daily operations, and ensuring the highest standards of performance across all functional areas, including Product, Marketing, IT and more. The role presents an exciting opportunity for a dynamic and experienced professional to play a pivotal role in shaping and executing the strategic vision of the online casino. This is a fully remote role but the company is looking for someone who is located in Cyprus.
Responsibilities:
1. Strategic Planning
Design and implement effective business strategies, plans, and procedures to drive the company's growth and success.
Set comprehensive goals for performance, ensuring alignment with the company's vision and objectives.
2. Day to Day Operational Oversight
Oversee the daily operations of the company, including key functional areas such as IT, Marketing, Sales, and more.
Ensure the efficient and effective execution of operational plans to meet organizational objectives.
3. Leadership and Team Management and Mentoring
Lead and inspire a high-performing team, fostering a culture of excellence, collaboration, and innovation.
Provide guidance to executives and department heads, ensuring alignment with overall company goals.
4. Performance Evaluation
Evaluate company performance by analyzing and interpreting relevant data and metrics.
Implement measures to enhance operational efficiency, identifying areas for improvement and optimization.
5. Reporting
Prepare comprehensive reports on the company's performance and key operational matters.
Regularly communicate with the CEO, keeping them informed on critical developments and strategic initiatives.
6. Policy Development
Establish and enforce policies that promote the company's culture, values, and long-term vision.
Ensure compliance with industry regulations and ethical standards.
7. Relationship Management
Manage and nurture relationships with key partners and vendors.
Collaborate with external stakeholders to enhance the company's market position and achieve strategic objectives.
Qualifications:
1. Experience:
At least 5 years' experience as an Operations Manager or in a relevant leadership role within the online casino industry. (managing an online casino) – this is a must. We are looking for candidates who manage senior roles in operations, CRM, and product, with an emphasis on more than one of these departments.
2. Business Functions:
In-depth understanding of all facets of business functions within an online casino, including but not limited to gaming operations, IT infrastructure, and business systems.
3. Strategic Competency:
Demonstrable competency in strategic planning, business development, and execution of growth initiatives.
4. Knowledge Base:
Working knowledge of IT and business infrastructure, along with familiarity with gaming-related systems.
5. Leadership Skills:
Outstanding organizational and leadership abilities with a proven track record of driving successful teams.
6. Communication Skills:
Excellent interpersonal communication skills, both written and verbal.
7. Decision-Making:
Aptitude in decision-making and problem-solving, with a strategic and flexible thought process.
To apply:
Please send your CV to StaffMatters at admin@smstaffmatters.com and mention that you are applying for the vacancy of Operations Manager (Remote) with reference number 1954.
Or you can apply directly through your candidate login by hitting the APPLY button.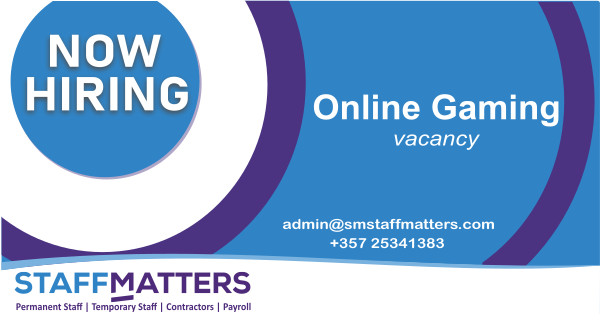 Our client, a highly successful and fast-growing Online Gaming Company, is looking to hire an English Customer Support Agent to join their team based in Limassol.
Responsibilities:
Responding to client account queries via Email, Telephone Calls and Chat in a polite and professional manner.
Open and maintain customer accounts by recording account information
Resolve product and service problems by clarifying the customer's complaints, determine the cause of the problem, selecting and explaining the best solution to solve the problem, expediting correction or adjustment, following up to ensure resolution.
Contributing to team effort by accomplishing related results as needed
Manage large amounts of incoming calls, emails and chats
Identify and assess customer's needs to achieve satisfaction
Follow communication procedures, guidelines and policies
Go the extra mile to engage customers
Further training is provided by the company.
Requirements:
Native / fluent English
Proven customer support experience will be considered as an advantage but not necessary as company provides full in-house training
Strong communications/public relations skills and active listening
Customer orientation and ability to adapt and respond to different types of characters
Computer literacy
Ability to work shifts
Ability to work both alone and as part of a team essential.
Ability to work under pressure
Benefits:
Excellent work environment
Attractive salary package
Monthly incentive Bonus
Possibilities for internal growth
Exciting company activities
Working hours:
Monday to Sunday a rotation of 4 days work and 2 days off – 40 hours per week. It is on a 24/7 work basis. If you work on a public holiday, you get paid double for this day.
Rotation is as follows:

4 days work 08:00am to 16:00pm
2 days off
4 days work 16:00pm to 24:00
2 days off
4 days work 24:00 to 08:00am
2 days off
Salary:
Between 1,000 – 1,500 EUR based on skills and previous experience
To apply:
Please send your CV to StaffMatters at admin@smstaffmatters.com and mention that you are applying for the vacancy of English Customer Support Agent with reference number 834.
Or you can apply directly through your candidate login by hitting the APPLY button.