Jobs in the Customer Service Sector
We have 2 opportunities in the
Customer Service
sector for which we are currently recruiting. To see the jobs in ALL sectors, please click here:
All vacancies
We would also like to invite you to sign up to receive an alert from us when new jobs become available in the Customer Service sector (and any other sectors) in the future. Register here to be the first to know:
Register
Our client is the leading e-commerce marketplace in Cyprus and they are looking for a Customer Service Advisor to join their team based in Limassol.
The Customer Service Advisor is responsible for ensuring the overall success of the company's services. Working closely with customers, you will provide ongoing support, advice and day-to-day management of all requests, aligned to customers' business objectives. You will need to understand the services offered, offer impeccable levels of service and build and maintain customer relationships, to become a trusted advisor. Additionally, you will assist customers with technical problems, resolving customer queries, recommending solutions and guiding service users through features and functionalities. To be successful in this role, you should be an excellent communicator who's able to earn a clients' trust. Ultimately, you will help establish the company's reputation that offers excellent customer support during all sales and after-sales procedures.
The ideal candidate will have customer support and sales experience and have a proven track record of meeting and exceeding program goals and revenue targets.
Responsibilities:
Respond to customer queries in a timely and accurate way, via phone, email or chat
Provide up-selling, cross-selling and account retention services as needed
Promote new offers and services to customers
Identify customers' needs and help customers use specific features
Monitor customer complaints on social media and reach out to provide assistance
Share feature requests and effective workarounds with team members
Inform customers about new features and functionalities
Go the "extra mile" to meet targets
Ensure any customer issues are resolved quickly
Respect customers' scarce time and provide clear and direct clarifications to their queries
Able to handle multiple screens and get information from various sources quickly
Have a strong relationship with the sales team in order to identify opportunities for growth within each account, to reduce churn and drive revenue
Multitasking and critical thinking are required in order to prioritise and handle both incoming and outgoing contact
Strong understanding of customer expectations with a focus on quality driven support
Be a great team player and continuously work to achieve team targets
Requirements:
Proven experience in customer service role
Experience in a sales advisor role will be considered as an advantage
Familiarity with e-commerce industry is a plus
Greek language as a native and fluency in English is mandatory
Experience using help desk software and remote support tools
Understanding of how CRM systems work
Back office experience
Capacity in disputes handling
Open in receiving feedback and taking it into account
Adaptability in new projects and assignments
Excellent communication and problem-solving skills
Multi-tasking abilities
Patience when handling tough cases
Able to balance a customer-oriented and a results-driven approach
Patient and comfortable dealing with complaints
Professionalism and outgoing personality
Great interpersonal skills
Outstanding organisational abilities
Benefits:
Remote Work
21 days holidays
Technical equipment
Ongoing training
To apply:
Please send your CV to StaffMatters at admin@smstaffmatters.com and mention that you are applying for the vacancy of Customer Service Advisor with reference number 1130.
Or you can apply directly through your candidate login by hitting the APPLY button.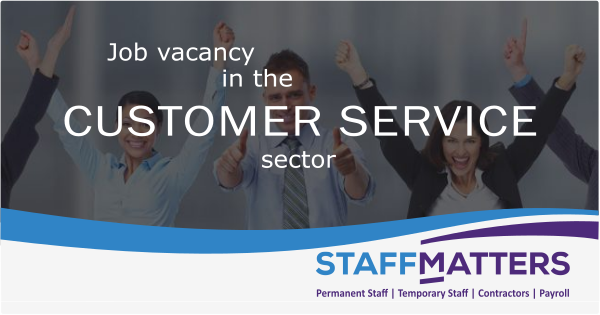 Our client, a CySec Regulated Forex Company in Limassol, is now looking to recruit a Turkish-speaking Customer Care Officer.
Responsibilities:
Dealing with clients' inquiries via live chat, email and telephone
Performing personal clientele analysis and taking actions as required
Handling client inquiries appropriately and ensuring that high level service is provided
Promoting available products and services to clients
Developing and maintaining excellent relationships with prospective and existing clients
Cooperating effectively with other departments as required
Contributing to team effort by achieving targeted results
Main requirements:
Degree in a business-related field
Client handling experience in the financial services sector is a definite plus
Fluent Turkish speakers with excellent oral and written skills in English
Ability to multitask and maintain a high-level of organization
Outstanding communication and interpersonal skills
Excellent computer literacy
Valid work permit required
Benefits:
Performance-related reward
Private health insurance
Corporate pension insurance
Intellectually stimulating work environment with lots of team activities
Continuous personal development and international training opportunities
Masseuse
Working hours:
The working hours are shift hours: 8:00 – 16:30 and 14:00 – 22:30 (Monday – Friday).
Once every 6 weeks employee will need to work either a Saturday or a Sunday. The employee will be paid extra and have an additional day off within the same week.
To apply:
Please send your CV to StaffMatters at admin@smstaffmatters.com and mention that you are applying for the vacancy of Turkish-speaking Customer Care Officer with reference number 125.
Or you can apply directly through your candidate login by hitting the APPLY button.