Jobs in the Fintech Sector
We have 2 opportunities in the
Fintech
sector for which we are currently recruiting. To see the jobs in ALL sectors, please click here:
All vacancies
We would also like to invite you to sign up to receive an alert from us when new jobs become available in the Fintech sector (and any other sectors) in the future. Register here to be the first to know:
Register
On behalf of our FinTech client, a leading regulatory technology solutions provider for the global financial services industry, we are looking for a Junior Regulatory Analyst to work out of offices in either Limassol or Nicosia. Working for this company is a rich experience that can rarely be found in any other working environments. Not only will you learn skills that will last you a lifetime, but you will develop relationships and training that could set you up for an established career.
This role in a nutshell:
Support clients and internal enquiries on compliance/regulatory related matters, keep up to date and provide guidance on new regulatory developments and analyse trading models and financial instruments.
What Does Your Role Specifically Involve?
Reply and provide guidance to compliance/regulatory related enquires of clients and support internal enquiries on compliance/regulatory matters such as EMIR, MiFID, MiFIR, SFTR, RTS 27, RTS 28, Best Execution, CRS, FATCA, DAC6, MAR, KYC, AML.
Review, analyse and provide guidance on new regulatory developments.
Provide input to in-house teams regarding reporting of new financial instruments and the nature of transactions.
Participate in meetings with prospective clients, analyse and understand trading models, financial instruments nature and their respective contracts and any other compliance aspect related to regulatory reporting requirements.
Keep up to date with relevant regulatory developments and cooperate with in-house teams to interpret how these could potentially affect client business.
Communicate with the Cyprus Securities & Exchange Commission and other local and EU authorities.
Draft articles related to regulatory and financial matters for marketing purposes.
Here Are Our Basic Requirements:
Bachelor's degree in Economics, Maths, Statistics, Actuarial, Finance, Accounting, or any other related discipline from a reputable university.
Excellent command of the English and Greek language, both verbal and written.
Able to perform under pressure and strict deadlines.
Computer literacy.
Understanding of how financial markets and financial instruments operate.
Team spirit with strong relationship-building and interpersonal skills.
Excellent problem-solving abilities and willingness to study and develop.
We'd Also Love to See:
Previous experience in a position relevant to regulatory reporting (e.g. SFTR, MiFIR, EMIR, etc.)
Previous academic knowledge and/or experience on economics or the financial services sector.
ACA/ACCA/CFA or master's degree in a related field.
Remuneration:
To apply:
Please send your CV to StaffMatters at admin@smstaffmatters.com and mention that you are applying for the vacancy of Junior Regulatory Analyst – Financial Technologies with reference number 936.
Or you can apply directly through your candidate login by hitting the APPLY button.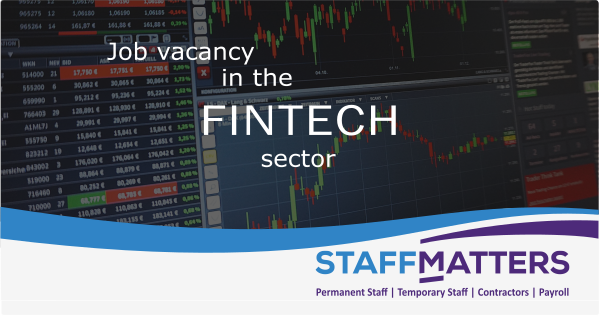 Our client is an online trading service provider with offices globally and they are currently recruiting for a Quantitative Analyst for their Limassol based office
Job description:
Imagine an online trading platform that makes trading accessible to anyone, anywhere, with a wide range of offerings and competitive trading conditions. Now picture yourself creating some of the trade types and instruments offered on this platform. As a Quantitative Analyst that is exactly what you will do.
You will design and create new trading products that will make the company platform of choice, where clients can trade anything they desire.
You will use mathematical and financial methods to develop derivatives pricing and risk management algorithms based on real-time market data, new events, and any such parameters impacting the underlying instruments.
With your extensive financial knowledge and data analysis skills, you will create models that will help us mitigate risk, make sound business decisions, and introduce a new generation of trading products to the fintech world.
Your challenges:
Apply mathematical models to real-world scenarios.
Solve complex and abstract mathematical problems to optimise pricing and manage risk.
Analyse trading patterns to identify new market opportunities.
Develop derivatives pricing, as well as risk management models and algorithms.
Review, develop, and enhance options pricing, volatility forecasts, and risk management programmes.
Perform data mining using SQL databases and other analytical tools.
Monitor trading activity across all of our platforms and minimise abuse.
Generate periodic and special reports that summarise client trading trends.
Our team:
You will be part of the Trading team that develop the underlying risk and pricing models that drive our products and enable customers to trade on our platforms.
We are central to the profitability and success of the company.
We track the company's performance, mitigate risk, and provide useful, actionable insights that help us develop solid business strategies.
Requirements:
A university degree in physics, financial engineering, or mathematics
Knowledge of probability theory, stochastic calculus, numerical methods, Monte-Carlo simulation, differential equations, econometrics, derivatives pricing, and statistical modelling
Experience in a programming language such as Python, R, and SQL
Excellent spoken and written English communication skills
What's good to have:
Experience in using financial information sources such as Bloomberg and Reuters
Salary and benefits:
Exciting work challenges
Collaborative work environment
Career advancement opportunities
Market-based salary
Workdays from Monday to Friday
Annual performance bonus
Casual dress code
To apply:
Please send your CV to StaffMatters at admin@smstaffmatters.com and mention that you are applying for the vacancy of Quantitative Analyst with reference number 272.
Or you can apply directly through your candidate login by hitting the APPLY button.