Jobs in the Casino Sector
We have 2 opportunities in the
Casino
sector for which we are currently recruiting. To see the jobs in ALL sectors, please click here:
All vacancies
We would also like to invite you to sign up to receive an alert from us when new jobs become available in the Casino sector (and any other sectors) in the future. Register here to be the first to know:
Register
Our client is an established and profitable online casino company with an experienced leadership team who have spun out from major household gambling operators.
They are now looking for a Fraud & Payment Analyst to help minimize business costs associated with fraud and other undesirable activity in an online casino environment facing the Asian market. It involves making sure all customers' withdrawals are processed correctly and timely whilst identifying and mitigating risks which can incur financial loss. The role involves being meticulous and constantly aware of niche risks that can impact the business when assessing player accounts and gameplay activity, then being able to act to mitigate those effectively. This job is exciting, you would step into a motivated, high performing and energized team. They are happy to train and invest in the right person as needed; knowledge of gambling, attitude and approach counts significantly for them.
Responsibilities:
Monitoring of registrations, deposits and withdrawals with the team to detect issues especially with regard to possible charge backs, colluders and bonus abuse
Checking player behavior for risks, then processing payouts timely
Interrogating certain KYC documents, spotting counterfeits
Oversight of casino activity to spot anomalous or high-risk activity which requires mitigation
Helping ensure tasks are delivered in line with SLAs and acceptable chargeback levels are maintained
Dealing with escalations from support agents in a customer centric but risk aware way, importantly treating customer support as your customer.
Supporting other team members helping to transfer (and also acquire) knowledge organically and without prompt
Helping with ad hoc tasks, especially procedure documentation or improvement
Being an active and enthusiastic member of the team contributing to the overall positive work environment
Requirements:
Detail-oriented and an analytical mindset – incredible attention to detail is needed
Strong interpersonal & communication skills – a team player who is not afraid to share knowledge
Someone who is organized and diligent
Flexible and adaptable, enjoying a high paced and changing environment
Customer centric and business minded
Patient with complex systems and working practices
Optimally someone with degree level education or experience in an analytical or profession, proven good with numbers and large amounts of data.
Someone with a background as a player could fit well and this is not considered detrimental to an application, in fact a benefit. An understanding of casino games is important, and this will be asked about during interview.
A good understanding fraud in a non 3DS secured card processing environment is considered an asset.
A solid grounding in risk management and payments within an online casino context is a major plus.
Some payment processing experience is helpful in another domain, an understanding of the methods and how procedures work although this can be taught easily.
Previous experience in i-Gaming is a must
EU-citizenship
Working hours:
The working hours are one of two shifts 8-5pm or 10-7pm on a rotation with an hour for lunch (importantly this includes weekends) although they permit people to work from home at weekends.
Salary:
The company is offering a salary of up to 35k EUR gross per annum plus 27 days leave a year (not 20), mobile phone covered up to 50Eur a month, breakfast Tuesdays, Lunch Fridays, health cover (standard state + private scheme
To apply:
Please send your CV to StaffMatters at admin@smstaffmatters.com and mention that you are applying for the vacancy of Fraud & Payment Analyst with reference number 1061.
Or you can apply directly through your candidate login by hitting the APPLY button.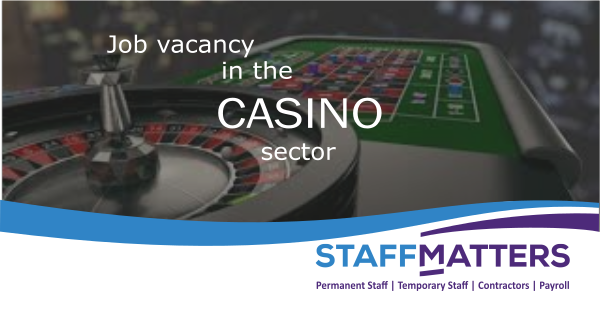 Our client, a highly successful and fast-growing Online Gaming Company, is looking to hire a Cashier Analyst Agent to join their team based in Limassol.
As a Cashier Analyst Agent, you will be helping to reduce risk exposure by verifying the identities of new customers. You will be preventing unscrupulous individuals from using financial businesses for illegal transactions.
Responsibilities:
Monitor and resolve deposit issues
Review customer accounts and verify their identities
Request and verify KYC and SOF documents
Monitoring the incoming financial transactions of the customers by following AML (Money Laundering) guidelines
Identify and report possible fraud and suspicious activity
Assess the risks associated with customers
Processing deposit and withdrawal requests
Communicate with banks and payment processors
Ensuring all the back-office workload is completed on time
Requirements:
English fluency
Ability to work independently and as a part of a team
Ability to work under pressure and meet deadlines
Excellent observational skills
Excellent analytical skills
Strong critical thinking skills
Sound decision-making skills
Shift rotation is essential
Proficiency working on computers
Trustworthiness, Accountability, and Conscientiousness
To apply:
Please send your CV to StaffMatters at admin@smstaffmatters.com and mention that you are applying for the vacancy of Cashier Analyst Agent with reference number 1051.
Or you can apply directly through your candidate login by hitting the APPLY button.